Why work at Degreed?
Balance.
We believe your best work happens when you have a complete life balance and Degreed gives you the flexibility to make that happen.
View open positions
Diversity.
Degreed is dedicated to building a diverse and inclusive workforce that celebrates people's backgrounds and differences.
View open positions
Growth.
Build your skills while building Degreed. Get $1,200 a year to learn whatever you want.
View open positions
Just a few of our benefits.

Flex Time
We offer a 100% flexible schedule. You work when you want, where you want (really).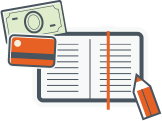 Learning Stipend
We give employees $1,200 a year to learn anything they want. And unlimited dollars if it is job-related.

Parental Leave
Unlimited paid maternity and paternity leave with a commitment to return 2X duration.

Part-time with Benefits
We offer part-time positions that include full benefits.

Childcare Reimbursement
We believe in balancing work with family life and offer a reimbursement for child care for US employees.

Unlimited PTO
Unlimited. And a culture that makes good on it.
"It's hard to imagine a place like this exists. But here I am."
Marc Eberhart, Chief Marketing Officer
Ready for your dream job?